Download LSS v10 and Dongle Drivers
Here existing LSS users can update their copy of LSS to the latest version. It is not an evaluation copy and does require an LSS dongle in order to run. This download is approximately 200Mb in size and includes test data, bitmap textures for 3D views, a tutorial video viewer, survey instrument installs for Leica and Trimble and the new LSS 3D Vision application for point clouds.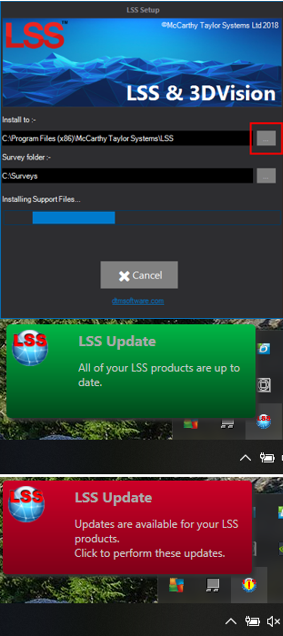 This latest version of LSS will keep itself up to date and will not require special permissions to do so. If you want to install it into a different folder then click the browse button on the installer (see image on the right) and the updater will notify you when updates are ready.
Trimble users note: If, when converting Trimble Job files, you see an error message or the LSS load file you were expecting is in an unfamiliar format, then you will need to update your Trimble s/w from the following link. http://www.trimble.com/taim
Download the LSS program incl. testdata (latest version is 10.01.02 - 22nd November 2018)
1. Download LSS

Download the dongle drivers
If you currently do not have LSS running on your computer then you will also need to download the dongle drivers.
If the dongle is going to be plugged into a server then you'll need to install the server drivers on that computer (Windows only).
Problems installing the dongle drivers?
If you encounter any problems installing the dongle drivers then we have several alternative solutions. Please hit the link below.
Want to network the LSS dongle?
If you want to place the LSS dongle on one computer, but access it from another then please hit the link below.
Keep your LSS software updated
Please note that LSS will attempt to check for program updates automatically. Please go into LSS and select command 'Configure / Hardware & System / General' and make sure that 'Disable Auto-update' is unticked. If you prefer to check the availability of updates yourself then again, in LSS, select command 'Help / Check for LSS update'. If your computer is managed by an IT department you may not be able to download updates. In which case, please hit the link below.