Download LSS v10 and Dongle Drivers
Here existing LSS users can update their copy of LSS to the latest version. It is not an evaluation copy and does require an LSS dongle in order to run. This download is approximately 200Mb in size and includes test data, bitmap textures for 3D views, a tutorial video viewer, survey instrument installs for Leica and Trimble and the new LSS 3D Vision application for point clouds.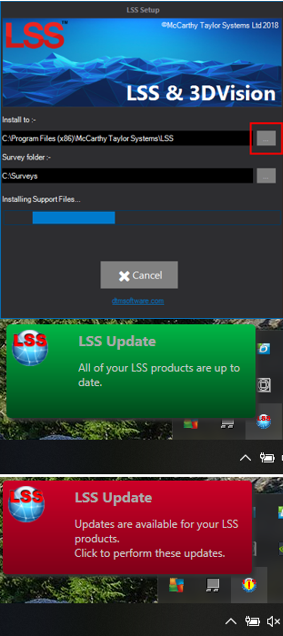 This latest version of LSS will keep itself up to date and will not require special permissions to do so. If you want to install it into a different folder then click the browse button on the installer (see image on the right) and the updater will notify you when updates are ready.
Download the LSS program incl. testdata (latest version is 10.01.24 – 17th February 2023)
1. Download LSS

The client dongle drivers are now included in the main program install (above). If you need to re-install the dongle drivers try the following page… https://www.dtmsoftware.com/Support-Home/Download/dongle
Sharing the dongle on a server?
If the dongle is going to be plugged into a server then you'll need to install the server drivers on that computer (Windows only). Download and unzip the file (below) and then run the exe file.
Problems installing the dongle drivers?
If you encounter any problems installing the dongle drivers then we have several alternative solutions. Please hit the link below.
Want to network the LSS dongle?
If you want to place the LSS dongle on one computer, but access it from another then please hit the link below.
Keep your LSS software updated
Please note that LSS will attempt to check for program updates automatically. A Windows service will run on your computer and check when you log into your computer and at around 12:00pm (local time) every day, when you're logged-in. If it finds an update to LSS it will display a message (see the images above right). Clicking on this message will initiate the update process. If your IT systems block such activity you will need to keep checking our website for the latest version of LSS, or subscribe to our e-bulletins for monthly news on product developments.