A version of LSS specifically for education and non-commercial research purposes. With all the functionality of the full LSS Elite with Point Clouds system, LSS Education Plus provides course tutors with the opportunity to offer one of the most widely used surveying and modelling packages to their students at a fraction of the commercial price. There are no capacity restrictions in this product, but if you don't need Point Clouds or the extra LSS model capacity that this provides, then please look at LSS Education.
Our LSS Education packages come with a ten-user network dongle. Additional network keys may be purchased as can single-user standalone dongles. Only available via registered education establishments.  
A ten-user network dongle allows any ten users access to the software at a time. The software can be installed on as many computers as you require.
The price is for a 12 month licence and includes technical support and software updates.
Are you an existing LSS user looking for the program to download and install? Look here
For Land Surveyors
Data transfer from EDM, GPS or datalogger – where possible this is done in the native format of the instrument.
Support for powerful on-site feature coding
Traverse calculation and adjustment, comprehensive survey control reporting and editing
Resections and radial offsets calculated
Building elevations
Interactive on-screen editing of points, features, text etc
Quality Assured CAD-Pro editing tools including intersections, squaring, offsets, generation of extra points along strings etc
User-definable features and symbols
Cut and paste surveys
    Add one survey to another (useful if different survey teams are processing different parts of a survey)
Scale factors and model transformation (offset, rotation, re-scaling)
Printing of plans and sections
Input of data from other systems, such as DXF for AutoCAD™ and Ordnance Survey MasterMap (GML)
Interrogate and import from MX (MOSS) Model files
Export ESRI ASCII Grid format (in addition to import of this format in Solo)
Export to selected GPS Machine Control Systems
Query maximum, minimum and total lengths of selected linear features
Powerful Terrain Modelling
Automatic formation of DTMs (Digital Terrain Models)
Dynamic contouring - automatic generation of contours at any interval, updated in parallel with changes to DTM
Interrogation of DTMs, including level interpolation, section profiles and distances between points/along features
Superimposition of up to 36 surveys on screen - to query points, distances and to check extents etc
Terrain, non-terrain and 2D feature manipulation
Bitmap image backdrop (i.e. orthophoto or raster map)
Application of surfaces to distinguish between surface types, e.g. tarmac, grass, water etc (all user-definable)
Calculation of slope and plan areas and perimeter lengths, broken down by surface types if required
Models of up to 4 million points
Powerful data thinning for importing larger datasets
Volumes, sections, 3D views and machine control...
3D views and realtime fly-bys (virtual tours). Textures may be applied to the DTM in order to represent different materials or zones and images applied to point and link features to represent such things as trees, hedges, walls, fences and buildings
Raster maps and aerial orthophotos may also be draped onto the DTM with the minimum of user intervention and the combined model flown or walked through in real time with joystick, gamepad or keyboard control of 3D virtual tours
Display up to 36 DTMs in the same 3D view simultaneously, with full control over transparency
Animated water 'flood' level facility within the 3D view and virtual tourLand Surveys and Designs using LSS
Calculation of volumes between two surveys, broken down by surface feature if required, using cross sections or highly accurate complex triangular vertical prisms
Volumes can take into account formation level information such as concrete slab thickness or road construction depths
Calculation of areas and volumes to a datum, as defined by surface features if required
Plotting of sections through up to 50 DTMs simultaneously to any Windows-compatible printer or plotter or DXF file
Reporting and export of section data
Determination of Ponding Extents for the analysis of ponded water
Our most comprehensive design, reporting and modelling system
Advanced terrain design employing wizards and user defined shapes or 'templates' eg for slopes, embankments, opencast mines, quarries etc
Extremely comprehensive volume calculation facilities, including breakdown by surface type, zones, cut depths etc
Volumes above and below a third model, datum or tilted plane
Output of cut/fill intersection lines and 'depth' lines
Generation of isopachytes (level difference contours)
Calculation of Overburden Ratio
Addition/subtraction of levels in one DTM to/from another including multiplication (for pre- and post-settlement calculations, merging data where only higher or lower than existing, bulking factors etc)
Specialist capabilities
Zones of Visual Influence and Intrusion (ZVIs and ZTVs)
Line of Sight (Viewshed Analysis)
Visibility profile for determining maximum permissible development heights (constraints)
Floor Level Assessment - testing for surfaces which are beyond tolerance in level, thickness or smoothness (The Concrete Society NSCS Standards 2004)
Planing Depth calculations of use to those reprofiling roads and runways
Rail survey adjustment (to adjust rail overlaps), rail gauge reporting and platform clearance calculations for those undertaking railway surveys using EDM and GPS survey equipment
Our Point Cloud capabilities
Creation of Point Clouds from E57, LAS, LAZ, FARO FLS, Leica Geosystems PTS, XYZ
With or without Intensity (a single numeric value which can be used to colourise the data)
With or without RGB colouration
Automatic point outlier recognition and removal
Over display LSS survey in the point cloud
Eraser tool to remove unwanted points
Extract a terrain from the Point cloud to create an LSS survey
Use the Point Cloud application as a 3D digitiser to extract 3D lines and points
Create elevations and topographical surveys
World's first SearchphereTM technology to find points which are Highest, Lowest, Nearest to the eye, Furthest from the eye, Mean of points within the Searchphere, or Closest to the user click
Searchphere "Find Edge" and Searchphere "Find Plane" in realtime
Export of E57 for use by other software
LSS 3D VisionTM application is a free Point Cloud and LSS survey viewer which doesn't require a dongle.
Some screenshots of Point Clouds inside LSS 3D Vision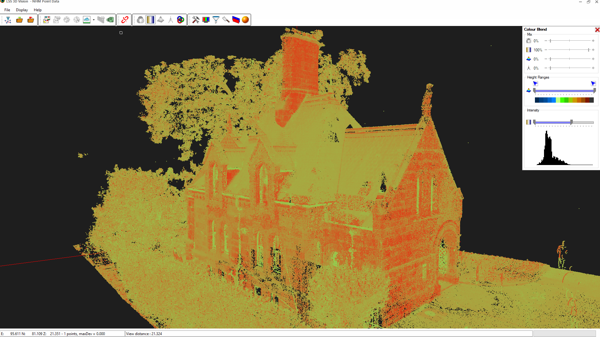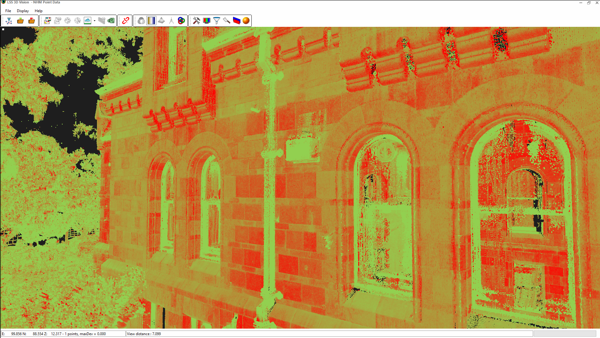 Courtesy RPS Planning and Development and Natural History Museum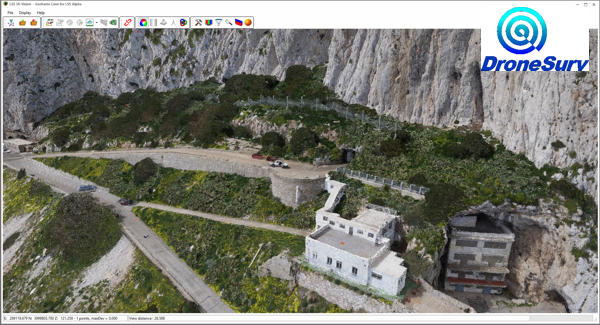 Courtesy Drone Surv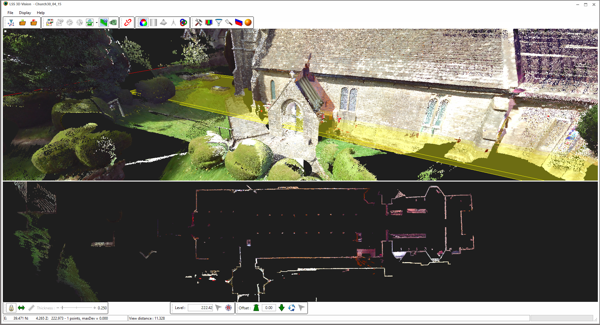 Church external and horizontal slice (MTSL in-house test scan)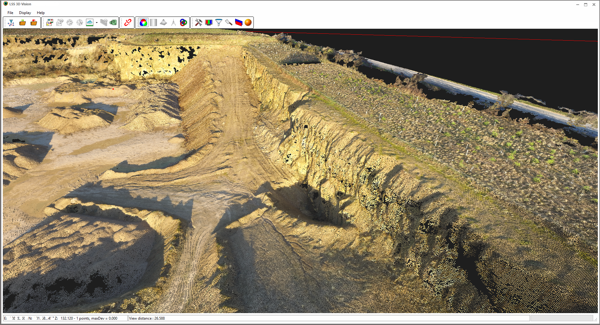 Courtesy OcuAir