Buy Now
Price:
(per licence)
From
£1,000.00
(inc. VAT)
If you are using Laser Scanners or Unmanned Aerial Systems (Drones) or collect and process LiDAR, Sonar or simply want to work with large datasets - LSS Elite with Point Clouds might be the solution for you.
For a list of LSS Elite capabilities, please visit that product page. All we are doing here is listing the main additional benefits of Point Clouds.
Each dongle allows one user access to the software at a time. The software can be installed on as many computers as you require. Simply move the dongle around, or 'share' it across your network. If more than one person needs access at the same time, then why not purchase additional dongles, or save money and order a multiple-user dongle.
All prices are for a 12 month licence and include technical support and software updates.
Are you an existing LSS user looking for the program to download and install? Look here
Everything in LSS Elite, plus
Creation of Point Clouds from E57, LAS, LAZ, FARO FLS, Leica Geosystems PTS, XYZ
With or without Intensity (a single numeric value which can be used to colourise the data)
With or without RGB colouration
Automatic point outlier recognition and removal
Over display LSS survey in the point cloud
Eraser tool to remove unwanted points
Extract a terrain from the Point cloud to create an LSS survey
Use the Point Cloud application as a 3D digitiser to extract 3D lines and points
Create elevations and topographical surveys
Generate Orthophotos from any Pointcloud
World's first "SearchphereTM" technology to find points which are Highest, Lowest, Nearest to the eye, Furthest from the eye, Mean of points within the Searchphere, or Closest to the user click
Searchphere "Find Edge" and Searchphere "Find Plane" in realtime
Export of E57 for use by other software
"LSS 3D VisionTM" application is a free Point Cloud and LSS survey viewer which doesn't require a dongle.
LSS 3D VisionTM - Point Cloud and LSS Survey viewer
At the heart of LSS Elite with Point Clouds is LSS 3D Vision, a separate application which, when connected to a suitably licensed copy of LSS, will act as a powerful 3D digitiser (see above). However, in standalone mode it is an application you can give to your client, together with your data so that they can view, but not amend. Because it is dongle-free and will allow Licensed LSS users to create new Point Cloud databases, why not run it on another computer and produce Point Clouds without tying up an LSS computer.
Look at what LSS 3D Vision can do, for free!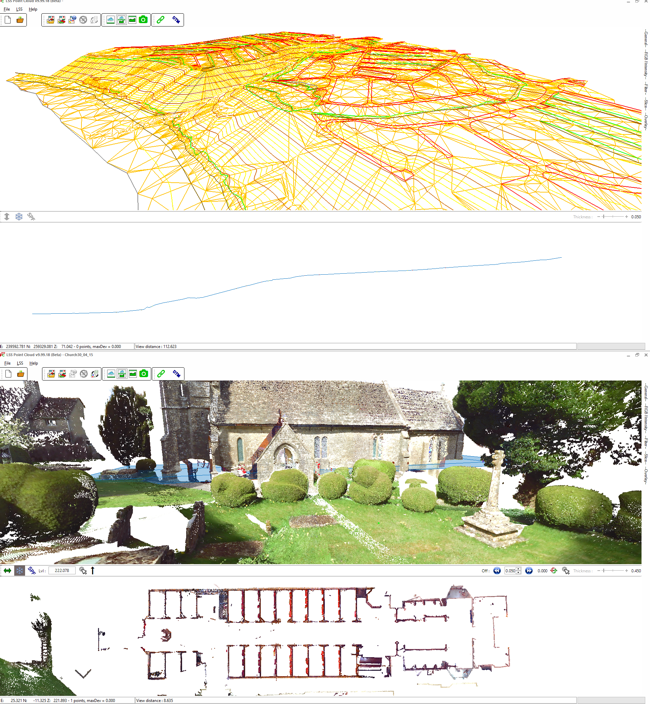 Display an LSS survey in 3D

Display a Point Cloud in 3D

Query coordinates and distances

View vertical and horizontal slices

Distribute it to clients dongle-free

Windows 32bit and 64bit platforms supported

Minimum OpenGL v4.0 graphics required

Vertical and horizontal heatmaps (show deviation from vertical or horizontal planes)
Some screenshots of Point Clouds inside LSS 3D Vision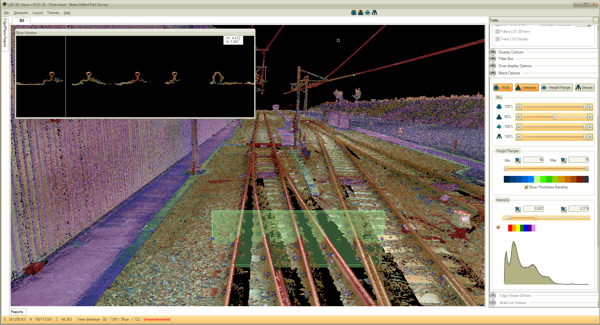 Courtesy L & M Survey Services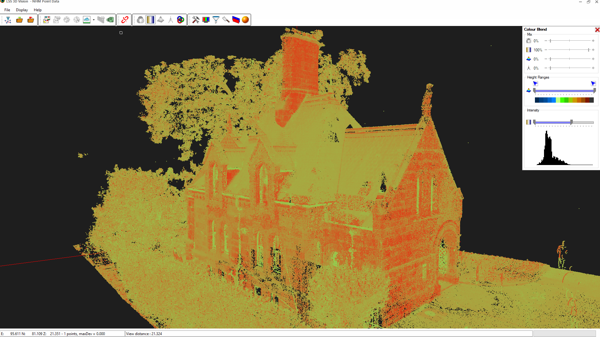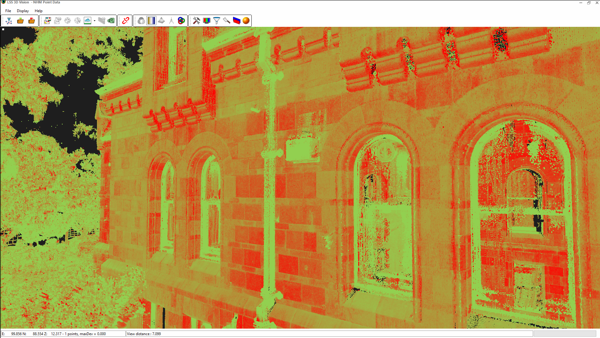 Courtesy RPS Planning and Development and Natural History Museum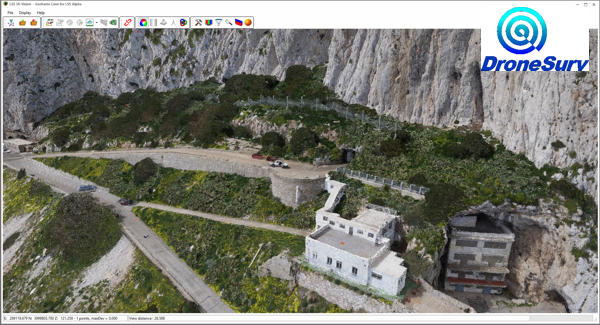 Courtesy Drone Surv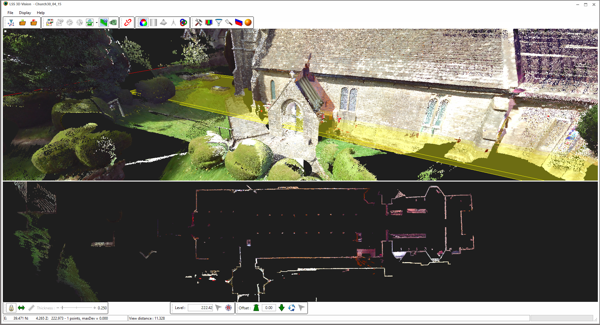 Church external and horizontal slice (MTSL in-house test scan)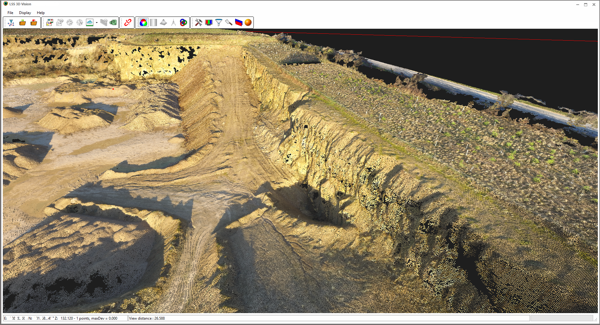 Courtesy OcuAir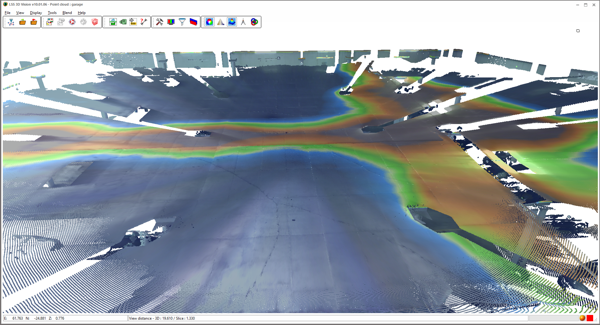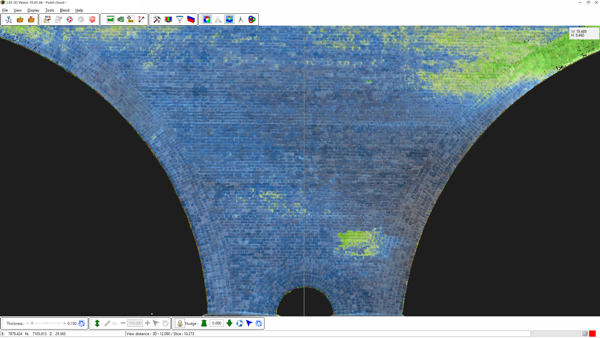 Show deviation from a vertical or horizontal plane for monitoring or construction.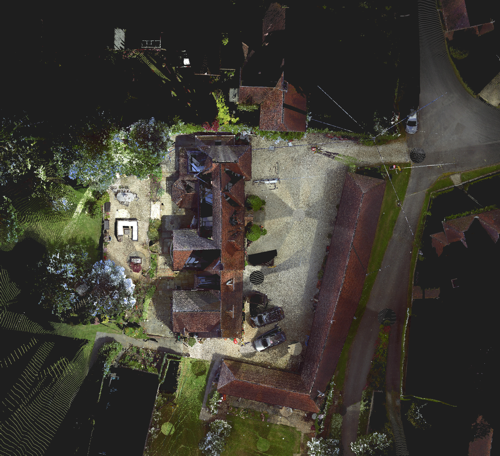 Orthophotos created from any pointcloud. Image courtesy Maltby Land Surveys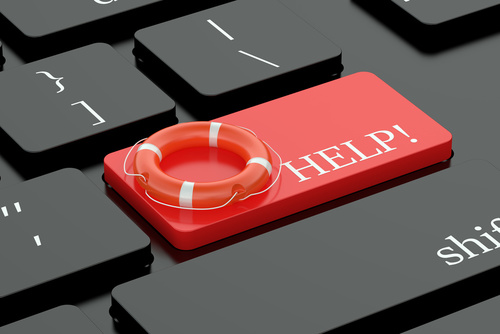 Help and Support
Command sensitive on-screen help facility
Movie-style tutorials covering every command
Dedicated technical support line (NOT a premium rate service). Talk to a real person who knows their stuff!
Comprehensive training course diary
Automatic software updates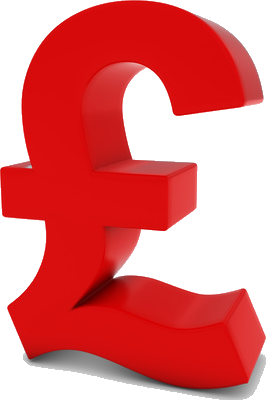 Flexible and Cost Effective
Compatible with all 32 and 64-bit Windows platforms from v7 onwards
USB Dongle protected for easy transfer between different computers
Can be installed on multiple computers
Single user system £1000 per year. No hidden extras. No nasty surprises
Thinking about training? Why not take a look at our training courses?
Cost of 12 month licence (inc. technical support and software updates) £1000 plus VAT - there is NO up-front purchase price.
Our software in use
Confused by the various products? Let us explain to you a few of the uses to which LSS is put and the likely products you might need.
This is by no means a comprehensive list, but should give you an idea of how useful LSS could be to you.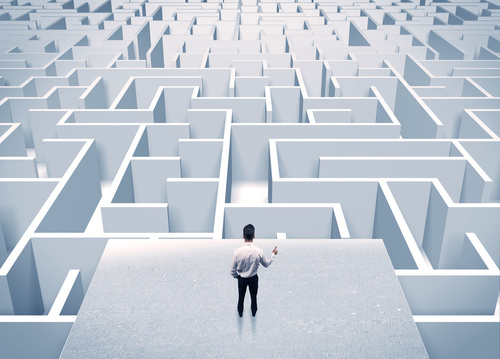 Still unsure?
If you're still not sure which product may be right for you then please download our Product Matrix or call us, we don't bite.